Matis Dermatology - Salt Lake City, Utah

Comfort and convenience are the hallmarks of Matis Dermatology's office operations. To ensure your convenience, below is the information you need about our hours, location, appointment scheduling, insurance acceptance, and billing.
Dermatology Practice
710 East 200 South # 1B, Salt Lake City, UT 84102 (located on the bottom level of "The Stansbury" building)
Ph: (801) 521-0100 / Fax: (801) 521-5227
Parking - TOWING WARNING
We have three (3) "reserved" parking stalls in our parking lot. They are the first 3 stalls on the left hand side when you enter the lot from 200 South. Please be sure you park in one of these spots or a Handicap space if you have a permit, or your car will be towed at your expense. If none of these spots are available, you will need to find a spot on the street. We apologize in advance for any inconvenience.
A picture of the sign in front of our 3 designated spots is below: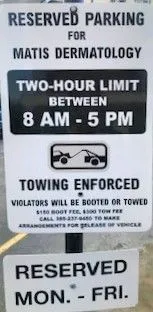 Appointments
We know you have many choices when choosing a dermatologist in Salt Lake City, so we thank you for choosing us. If, for any reason you cannot keep a scheduled appointment, or will be delayed, please call us as soon as possible.
Insurance
We accept most traditional insurance plans. Please contact your insurance company or our office to verify acceptance of your plan. Qualifications for insurance coverage may differ due to the uniqueness of each procedure. We are happy to file insurance for your reimbursement as long as you are free to choose your own dermatologist.
Payment Options
We accept Checks, Cash, or Credit Cards (Visa & Mastercard only).
We now accept Venmo (see QR Code below.) Please include Account # or Patients Full Name in the notes section, so this payment can be credited correctly.
We also offer a flexible payment plan. Please see our Financial Coordinator for details.